SAUER SUNDSTRAND & DANFOSS HYDRAULIC PUMPS
We service Sauer Sundstrand and Danfoss Hydraulic pumps.
Sauer Sundstrand and Danfoss hydraulic pump repair.
Hydrostatic Pump Repair has the ability to rebuild, test, adjust, and calibrate your Sauer Sundstrand or Danfoss hydrostatic drive, pump, or motor. When we rebuild your Sauer Sundstrand or Danfoss hydrostatic component, you can rest assured it's done according to manufacturer specifications. We specialize in Sauer Sundstrand and Danfoss excavator pump repair.

Danfoss is a world class provider of mobile hydraulics and hydrostatics for construction, agriculture, excavators and other heavy equipment. Danfoss is a world-leading supplier of hydrostatics for many markets.
DANFOSS REPAIR
Your machines and equipment can help make the world a better place. With help from Hydrostatic Pump Repair, we can rebuild your Danfoss hydrostatic pump or motor back to factory specifications. We can help with quick turn around time and fast shipping. Call us for all your Danfoss parts and questions. Phone: 800-361-0028 or 662-871-6486.
DANFOSS HISTORY
On May 3, 2000, Sauer-Sundstrand and Danfoss Fluid Power A/S became one company under the name of Sauer-Danfoss. On September 17, 2013 Sauer-Danfoss becoming Danfoss Power Solutions a member of The Danfoss Group.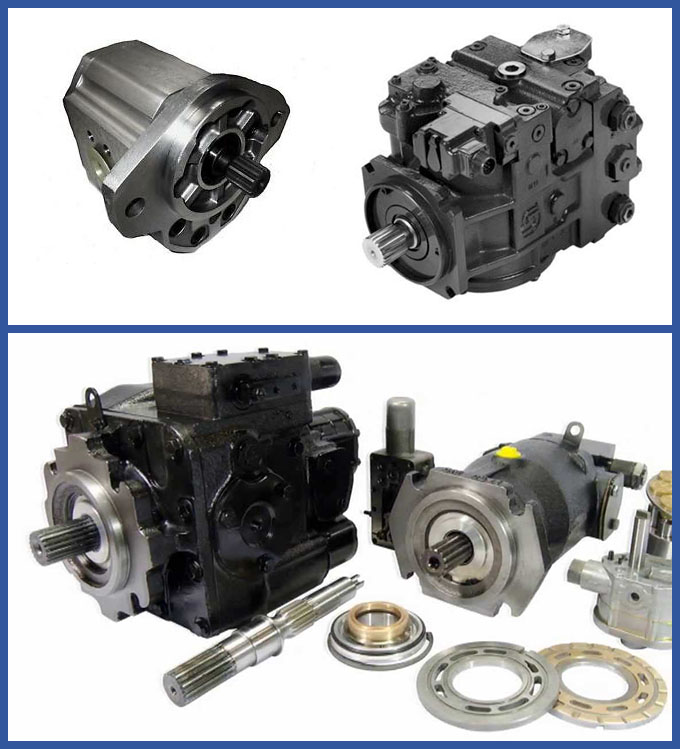 SUNDSTRAND REPAIR
Our Sundstrand hydrostatic, hydraulic repair program offers hydrostatic or hydraulic pump, motor, and transmission replacement and repair for the forestry, agriculture, and construction industry. These applications including mixer trucks, combines, paving equipment, asphalt, and many others. Give us a call for all your Sundstrand hydrostatic needs. Phone: 800-361-0028 or 662-871-6486.
SUNDSTRAND HISTORY
The Sundstrand Hydraulic Division was formed in 1934, the Sundstrand Hydraulic-Transmission Division in 1961, and the Sundstrand Aviation Division in 1945. A joint venture was established under the name Sundstrand-Sauer in 1987 and in 1989 Sundstrand sold its interest and the company name was changed to Sauer-Sundstrand. Sauer Inc., the holding company for all Sauer-Sundstrand activities, went public on the New York stock exchange on May 11, 1998.
WE CAN REPAIR MOST DANFOSS & SUNDSTRAND UNITS
SUNDSTRAND PRODUCT SOLUTIONS:

Steering Components
Orbital Motors
Hydrostatic Transmissions
Mobile Electronics
PCV Spool Valves
SUNDSTRAND HYDRAULICS FOR:
Road Building
Construction
Agriculture
Material Handling
Turf Care
And More…
Our trained technicians can repair or remanufactur Sauer Danfoss & Sauer Sundstrand pumps or motors back to factory specifications. We work on most all series of Danfoss & Sauer Sundstrand. Some of the more common series we keep in stock in reman or after market form are: Series 15, Series 18, Series 20-27, Series 30, Series 40, Series 44 (M46), Series 45, Series 51V and Series 90
Hydrostatic Pump Repair offers all types of Hydraulic Pumps for almost any Sundstrand Machines and Equipment.
Quotes and Options: Contact Us for all your repair needs on Sundstrand and Sauer Danfoss hydraulic pumps and motors. If we don't have your unit in stock, repair is an option. If you are looking for hard to find hydraulic pumps and motors, we can help you with obsolete parts and models.
GOT SUNDSTRAND HYDRAULIC PUMP AND MOTOR QUESTIONS?
NEED SAUER DANFOSS HYDRAULIC PUMP AND MOTOR ANSWERS?
NEED DANFOSS HYDRAULIC TECHNOLOGICAL HELP?
GIVE US A CALL!
We invite you to explore the site and learn about us and our distinctive products, services, initiatives, and our history of excellence. As one of the World's premier providers of Sundstrand & Danfoss hydrostatic rebuild and exchange services, we offer a full range of diagnostics, quality assurance, and buyer programs. At Hydrostatic Pump Repair, we constantly strive to anticipate and serve the needs of our customers.
I'm proud of our record over the years and our history of growth and success. And as you survey our site, I believe you'll see how and why we've developed, and sustained, business excellence. I would like to personally thank all of our long-term customers for their support and return business. Without you none of this would have been possible.
All of our Sundstrand or Danfoss hydraulic pumps carry a one year warranty and offer a full money back guarantee. We can usually ship your Sundstrand or Danfoss hydraulic pump in three days or so.
Sundstrand or Danfoss hydraulic pumps are designed to last a lengthy period of time when paired with the proper maintenance.
We accept almost all forms of payment. If you have a payment question, give us a call.

Disclaimer: All references to OEM words are strictly for reference only and does not imply that we are an OEM distributor.