We carry Eaton Parts and Pumps.
Contact us for all your Eaton Pumps and Parts needs.
At our Eaton Equipment hydraulic pump repair site, you can find information relating to Eaton machinery, heavy equipment and products. We offer new and remanufactured hydraulic pumps mounted on Eaton machinery. We repair, rebuild, and remanufacture all Eaton hydrostatic pumps, and Eaton hydraulic pumps. If your Eaton equipment hydraulic pump is not functioning as designed, contact us for a quote to repair your Eaton hydraulic pumps, and get your equipment back to OEM specs, quickly. Time is money and with your downtime and broken hydraulic pumps, your production is cut in half.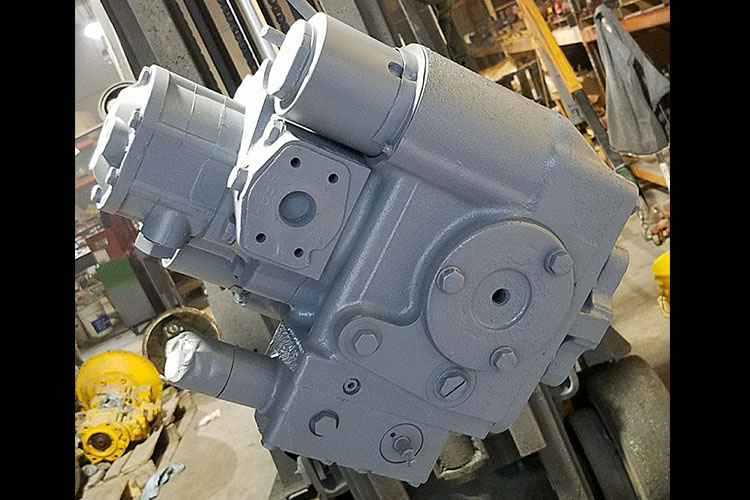 GOT EATON HYDROSTATIC PUMP AND MOTOR QUESTIONS?
NEED EATON HYDROSTATIC PUMP AND MOTOR ANSWERS?
NEED EATON HYDROSTATIC TECHNOLOGICAL HELP?
GIVE US A CALL!
Hydrostatic Pump Repair Offers Eaton Hydrostatic Parts and Eaton Hydrostatic Repair
Model (Unit Number)

33

39

46

54

64

76

Displacement

irrVrev

3.32

3.89

4.60

5.44

6.44

7.62

cnWrev

54,4

63,7

75,3

89,1

105,5

124,8

Highest Shaft Speed*

RPM

@ 18°

4510**

4160

4160

3720

3720

2775

Highest Point Pressure

PSI [bar]

6000 [415]

6000 [415]

6000 [415]

6000 [415]

6000 [415]

6000 [415]

Amount of Flow

GPM@ 3500 PSI

61.5

67.3

79.2

84.1

99.1

87.9

LPM@ 241 bar

233

255

300

318

375

333

Amount of Torque

lb-in@ 3500 PSI

2049

2346

2786

3285

3900

4552

Nm@ 241 bar

232

265

315

371

441

514
Pump's reliability is considered to be 96% effectiveness.
The highest pump shaft speed is based on the charge pump speed rating.
The most swash plate angle on model 33 pumps is 15.5°.
At the highest point of pressure it should not go beyond 1 % of operating time.
Bi-metal bearing plate –offers steel for high speed and pressure, while bronze allows for greater bearing properties.
Valve plate- casehardened steel for extended life.
End cover- on Models 33 through 64 offers the fixed motors with huge passages that reduce losses on both side and rear ports.
C-pad rear mount-  variable pumps for tandem units or for a through shaft are on Models 33 through 64.
Release valves- direct operated cartridge and fast acting direct types are on hand.
Controls- there are a wide selection of control options for pumps and motors to meet requirements.
Ports- SAE code 61 and code 62, along with o-ring boss ports are obtainable.


Hydrostatic Transmission Service,LLC offers a selection of four charge pump displacements to go with the heavy duty transmission line: .85,1.28, 1.70, and 2.12 in3/rev [13,9; 21,0; 27,8; 34,7 cm3/rev]. These charge pumps are available with one or more of the following options:
a pressure sensing port
remote pressure side filter ports
a spin-on pressure side filter
mounting flanges for auxiliary pumps
Displacement

in3/rev

.85

1.28

1.70

2.12

cm'/rev

13,9

21,0

27,9

34,7

Highest Shaft Speed

RPM

4600

3800

3100

3000

Amount of Flow @ Highest Speed

GPM

16.9

21.0

22.8

27.5

LPM

64,0

79,5

86,3

104,2

Amount of Force @ 220 PSI [15 bar] and Highest Speed

 

HP

2.17

2.70

2.93

3.54

kW

1,62

2,01

2,18

2,64

Hydrostatic Pump Repair offers Pumps, Eaton pumps, Eaton hydraulic pumps, and Eaton hydrostatic pumps. We also service and repair Eaton hydrostatic transmission pumps, hydraulic pumps, hydrostatic pumps, Eaton pump parts, Eaton variable pumps, Eaton fixed pumps, and Eaton open loop pumps. Hydrostatic Pump Repair offers Eaton hydraulic pump parts, hydrostatic transmission service, hydraulic parts exchange, Eaton hydrostatic pump repair, and Eaton hydraulic pump repair. When you need Eaton closed loop pumps, Eaton variable displacement pumps, Eaton hydrostatic closed loop pumps, Eaton hydrostatic open loop pumps, or Eaton hydrostatic variable displacement pumps, Hydrostatic Pump Repair is the place to call.
All of our Sundstrand hydraulic pumps carry a one year warranty and offer a full money back guarantee. We usually can ship your Sundstrand hydraulic pump in three days or so.
Sundstrand hydraulic pumps are designed to last a lengthy period of time when paired with the proper maintenance.
We accept almost all forms of payment. If you have a payment question, give us a call.

Disclaimer: All references to OEM words are strictly for reference only and does not imply that we are an OEM distributor.